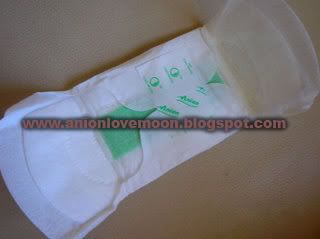 DID YOU KNOW THAT:
@Most Sanitary napkins are made from Bleached and Recycled Papers?
@Most Sanitary napkins can cause rashes, inflammation and even Urinary Tract Infections (UTI)?
@Most Women are prone to alot of Vaginal/Bacterial infections during their Menstrual Period?
Women....we have now the Answer....a Napkin that refreshes a woman's feeling during menstruation..no more itchiness..no more hassles..no more fuzz..you would even forget you have "IT". So comfortable that you can do just right about anything what you usually do on your regular days.
The PRODUCT:
Love Moon - Sanitary Napkin With NEGATIVE ION
With 7 high Tech Layers Unique Protection:
1) Soft Cotton Surface - to make the absorption faster dry and to prevent wetness.
2) Anionic Padding - with 5000 negative ions chips / cu. m. for better health.
3) Top Cover - sterilized & dirt-free polygel material.
4) Polygel Material - super absorbents material with strong liquid-retention to prevent wetness.
5) Lower Cover - sterilized & dirt-free polygel material.
6) Breathable Material - to release air & pressure without leaking / allows free-flowing of air.
7) Adhesive Material - for better mounting /easy to peel off.
The Rationale:
MORE THAN HALF OF THE HUMAN POPULATION ARE FEMALE!
MORE THAN HALF OF THEM ARE HAVING MENSTRUATION!
MANY ARE EXPERIENCING DIFFICULTY DURING THEIR MENSTRUATION BECAUSE OF BACTERIAL INFECTIONS
COMMON SYMPTONS:
1) SLIGHT FEVER 2) ITCHINESS 3) VAGINAL & CERVICAL INFLAMMATION 4) PAIN IN THE LOWER ABDOMEN 5) EXCESSIVE WHITE DISCHARGES
As much as 107 bacteria can grow and multiply on 1 mm sq. surface of common sanitary napkin.
DID YOU KNOW THAT 62 % OF WOMEN ARE INFECTED BECAUSE OF POOR QUALITY SANITARY NAPKINS?
RECYCLED PAPER CHEMICALS = BLEACHED PAPER
THE ABSORBENTS USED IN "LOVE MOON" SANITARY NAPKINS ARE MADE FROM POLYGEL, WHICH IS NATURAL AND SAFE.
THE BENEFITS OF NEGATIVE ION TO OUR HEALTH:
According to WORLD HEALTH ORGANIZATION the concentration of anions in fresh air should not be less than 1000 anions per cubic cm. & higher than this would mean eradication of bacteria and reduced them to zero.
Ex. Residential area: 40 - 50 anions /cm. cu Love Moon anionic strip : 5800 anions/cm. cu
Negative Ion present in the air possess Electrodes which easily attached to the surface of positively charged bacteria and viruses thus eradicating them.
LOVE MOON SANITARY NAPKIN WITH HIGH CONCENTRATION OF NEGATIVE ION UP TO 5800 ANION/CU. CM.
RESEARCHED HAVE SHOWN THAT PRESENCE OF MUCH NEGATIVE ION IN SANITARY NAPKIN WILL GIVE THE FOLLOWING BENEFITS.
1) RELIEVES STRESS

2) CONTROLS BACTERIA

3) CONTROLS INFLAMMATION

4) ELIMINATES BAD SMELL

5) ENHANCES METABOLISM

6) IMPROVES HORMONE SECRETION

7) STRENGTHENS IMMUNE SYSTEM

8) REDUCES BODY FATIGUE
If you want to know more on how to EARN Rebate:
Please
at:
anion_lovemoon@yahoo.com
www.winalite.com.sg
(+63)9192303403